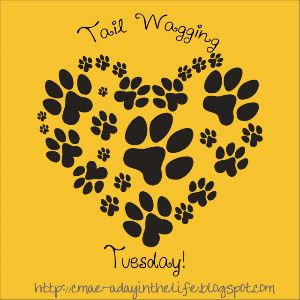 I'm linking up with C Mae again this week for Tail Wagging Tuesday. Sometimes I think I join in just because I feel guilty that Buddy isn't getting all the attention that he wants since the baby came. Luckily for me, though, he loves his little brother so he doesn't get too upset. :)
Anyway, this weeks theme is your pets favorite toy. Buddy has had a series of favorite toys (all of which has has destroyed by biting the sqeaker to death), but this one is his favorite:
Meet Oinkerton. He had a sqeaker that Buddy destroyed within a week, but he still loves playing with it. Since then he has had two replacements, but destroyed both of those within an hour (by tearing their ears off!) so he's stuck with the unsqueaking original. I just love that Buddy is so playful and plays with all of the toys we have bought. One of the best things about him is that he just lives that little life to the fullest!
In other news, Joseph and I are going to have our pictures taken by her this weekend with Bluebonnets! It's something that I just have to do while in Texas! (At every post, I make a list of location-specific things I want to do, and this is on my TX list :))
Aren't they gorgeous?! E doesn't know that we're getting them, so that will be a nice surprise for him to get. I think it'll be a good morale booster :)
Also, I'm REALLY bad at keeping surprises from my husband, so let's see if I can do it this time!
My guess is no, ha!