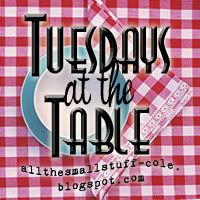 This is my interpretation of a Cooking Light recipe I found-- E and I absolutely love it! It's a pretty hearty meal too, although it's meatless... which makes me love it even more.
♥ 1 bag Ore-Ida hashbrowns
♥ 1/2 c. chopped onion
♥ 1 t. ground cumin
♥ 1/2 t. chili powder
♥ 2 garlic cloves, minced
♥ 1 (15oz) can no-salt-added black beans
♥ 1 1/2 c. frozen whole-kernel corn
♥ 1/4 c (1oz) shredded Cheddar Jack cheese
♥ 1/4 c. chopped fresh cilantro
1. Cook hashbrowns according to package directions.
2. While potatoes cook, heat a large nonstick skillet over medium-high heat. Coat pan with cooking spray. Add onion, cumin, chili powder and garlic to pan; saute 3 minutes. Reduce heat to low. Add beans, corn, and salsa; cook 4 minutes or until mixture is thoroughly heated.
3. To serve, spoon about a cup of the bean mixture over a cup or more of the potatoes. Top each serving with cheese and cilantro. Serves 4.
{you can also use baked potatoes for this recipe}