This is my second book review this week!

Apparently my motto should be "Will work for books," ha!


Anyway, a girl I went to college with read Pride and Prejudice and Zombies and wrote about it on facebook about a year ago, and since she has great taste in, well, everything, I thought I'd read it too. I saw it at Target when we were in AZ and finally decided to buy and read it. I wasn't sorry! I was worried at first that the integrity of the original would be ruined or poked fun of. I was pleasantly surprised, however, to realize that when one reads this book, he or she is essentially reading the original with some Zombies dropped in here and there, ha! It's probably what Jane Austen wished for in the first place ;)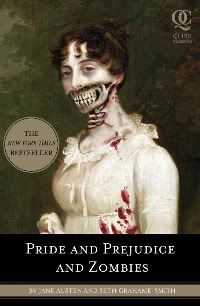 I loved the book so much (this is a big thing for me to say, as I'm not really a big fan of anything to do with zombies) that I looked at the Publisher's website (
Quirkclassics.com
) and saw that they had another book out,
Sense and Sensibiltiy and Sea Monsters
.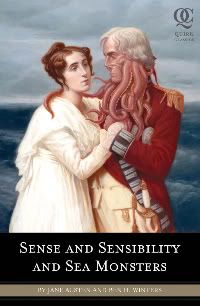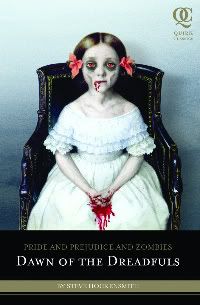 I spent last week reading the book, and I have to say that I wasn't disappointed at all. It was absolutely hilarious! I love, however, that the line between hilarious and just plain ridiculous wasn't crossed. I mean, I have an English degree and Jane Austen is serious business, ha!
Also, click
here
to be entered to win one of 50 Quirk Classics Prize Packs.
Each pack, worth over $100, includes:
-An advance copy of Pride and Prejudice and Zombies:Dawn of the Dreadfuls
-Audio books of Pride and Prejudice and Zombies and Sense and Sensibility and Sea Monsters
-A password redeemable online for sample audio chapters of Dawn of the Dreadfuls
-An awesome Dawn of the Dreadfuls poster
-A Pride and Prejudice and Zombies Journal
-A box set of Pride and Prejudice and Zombies postcards.
The poster is pretty awesome, by the way. It's actually the cover of the book and I'm thinking about hanging mine up in the guest bedroom, especially since my parents will be visiting in May. I mean, I can't think of a better way to say "Welcome to our Home," ha!
I like to think of myself as a book snob, and I really, really love these books! I'd recommend them to anyone who loves Jane Austen in the first place, someone looking for something humorous to read, or someone who enjoys reading something they've already read before, but with a little twist. Actually, I'd recommend thes to anyone :) Just don't read Dear John, as I thought it was crap! It should be titled: Dear Nicholas Sparks, Thanks for Trying to Capitalize on the War. Bitter much? Anyway....
The book goes on sale March 23, 2010.
The next book, Android Karenina, will be out later this spring-- I can't wait to get my hands on it!