I finally finished up my
Fall Into Reading
list, although the list of books I ended up reading is a far cry from the list I had originally set out to read.
Anyway, here are the most recent books I have read:
I loved Julie and Julia,
so I jumped at the chance to read Cleaving.
I really liked the story, I love her writing style,
but I think that she is simply a twit.
I don't see how anyone can think that infidelity is okay,
and I think she has attention issues.
Those are just my thoughts, though....
E bought this book for me
for Christmas and I LOVED it!
It was such a good book
and I was so sad when it ended...
how sad it that?
The characters were absolutely delightful
and I just fell in love with them all.
The book made me want to go live on Guernsey, ha!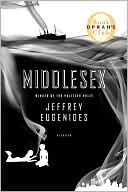 Lastly, my brother gave this to me for Christmas, too.
I also loved it and I couldn't get enough of it--
it was just so interesting,
and is one of Oprah's book club picks.
I love books that follow a family's history
and this one did a great job!
In The Guernsey Literary and Potato Peel Pie Society,
the main character said something to the effect of
"good books ruin you for bad books."
That's how I feel.
I don't know what to read next.
Any suggestions?