E and I have traveled a lot during our relationship, and I've just now come up with some really good things that I'll never travel without again.
1. Downy Wrinkle Releaser--
my best friend introduced me and I've been hooked ever since. I hate how wrinkly clothes get in a suitcase, and I am surely not going to iron them, ha! It's one of the few household chores I'm not good at it-- good thing E's uniform doesn't need ironed, he'd be in trouble!
2. Wet Ones Antibacterial Wipes--
I'm one of those people who washes my hands way too much, and I hate having dirty-feeling hands, so these things are wonderful! It's also great that they're antibacterial with us doing all of this traveling with the move and holidays and it being cold and flu season.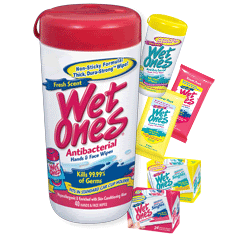 3. Pet Travel-Tainer--
This thing is fabulous and makes traveling with Buddy so easy! We've been out and about for a week and a four days, and it's only half empty. It's a lot bigger than it looked online, and it's pretty sturdy too. Also, if you're traveling with a dog, bringfido.com is wonderful!


* * * * *
I was so overwhelmed by Ft. Hood and the area on our first few days here, but we're getting used to it. Our new house is lovely and we think we're going to be very happy here and are excited to see what the future holds in store for us! The house is smaller than the one in AZ, but it seems bigger because it's layed out a lot better. The one in AZ had a lot of wasted room also.
I don't like complaining about other Army wives, especially when I've read a few blogs who do the same, although if you look at the blog you can see quite a few things that just aren't right... like my pet peeve, soldiers wearing bouttonieres on their dress uniforms. I mean, really, why make a man put something girly on his manly uniform? It's stupid and it says in the "Wearing of the Military Uniform" guide that it's a no-no. I guess I'm just a stickler for the rules... what a nerd, I know....
I ended up going on post the other day to do laundry and to pick up a few groceries. I was completely unaware that they were holding a crazy convention in the launderette. It was me, a bunch of crazy Army wives with crazy Army brats, and one, poor soldier stuck in the middle of it all. One was walking around the place pushing a stroller and talking on her cell about how some other girl was such a slut. Then she started telling her infant child stories and was being way too animated. The girl she was with also said at one point, "I'm not retarded, I just had a 103-degree temperature that fried my brain." Hmmm. I came home and told E that I'm not crazy enough to be an Army wife, ha!
The next day at lunch E saw a woman wearing a backless shirt and her bra was showing. He said at first that he really thought she was a hooker, but then realized that she was just an Army wife, ha! I didn't see her, but it must have been bad for him to say something like that.
Lastly, we were driving through McDonald's today, and some crazy Army wife that was in front of us was holding an infant on her lap! I was tempted to call the police, but I doubt it would have done any good. I mean, didn't she learn anything from Britney Spears? It's so sad that there are people out there who would be amazing parents and can't have children, but then there are crazies like that woman who can pop 'em out like popcorn. I treat Buddy better than that, and he's a rotten, little dog! I was pretty ticked about that one....
So, I guess all I can say is "Thank you crazy Army wives for making the rest of us look bad!" I try hard to be a good wife, and a good Army wife, especially since I'm not just representing me, but my husband as well. It gives me comfort though, to know that there are still nice Army/ Military wives out there, who behave like ladies, like all of you!