The lovely MG over at
gave me this blog award--
thank you SO much!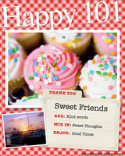 The rules for this award are:
♥ List 10 things that make you happy ♥ Tag 10 bloggers that brighten your day
Here I go....
1. I'm pretty happy that we made it to Fort Hood safe and sound, and that Buddy was well behaved the entire time. I was kind of worried about devil dog.
2. I'm so extremely happy that there is a Hobby Lobby, Cracker Barrel, Target, Kohl's, Olive Garden and Old Navy right here in the Fort Hood area and that we won't have to drive over an hour just to do basic shopping/ eat someplace that's not fast food. I was especially happy about the Hobby Lobby-- now I can do all the crafts I want (much to E's despair) and it's not three hours away like the nearest one to Ft. Huachuca was.
3. It makes me happy seeing Christmas decorations/ lights, or just going through the Christmas section of Walmart, Target, or Lowe's. It's all so pretty.... :)
4. Finding a wonderful new recipe. I just love cooking and am planning on cooking lots of healthy meals once we get our new home set up.
5. Speaking of our new home... we had an appointment to go look at it today. It's absolutely gorgeous and I think we'll be happy there. Hopefully all of the application stuff goes through tomorrow and we can sign for it soon--that would make me pretty happy!
6. E makes me happy-- the boy is hilarious! I just love him to bits and pieces.
6. A good book-- oh how I love reading. After majoring in English, it took me a long time to be able to read for pleasure again. I just finished up The Pillars of the Earth, which was fabulous, Girl With a Pearl Earring, and Push, and now I'm reading Cleaving by Julie Powell. I love her writing style, I just don't think that I like her....
7. Jamming to Christmas tunes in the car with Buddy. I've already warned E that it's gonna be Christmas music all the way to OH next week, ha!
8. McDonald's Coke. It's so much better than coke from a bottle or can. I've been known to go to McDonald's just for a coke.
9. I love when Buddy wakes up in the morning and he's so stinkin' affectionate. He won't even go outside to potty in the morning until he gives us some love. I think it's precious.
10. Lastly, Blog Friends make me happy! I wish I would have blogged while E was deployed-- I think I would have coped a lot better with it had I blogged! I want to especially thank Brianna and Jessica for helping E and I with this PCS move. Brianna, thanks for recommending that site-- E and I found a lovely house through it! And Jessica, I can't even begin to thank you enough-- you are wonderful!
I tag:
Brianna at The Simple Life of a Not So Simple Wife, Jessica at Confessions of an Army Wife, Jennifer at Crazy Shenanigans, Karren at A Bee and His Honey, Erin at The Unexpected Army Life, Jessica at Learning as We Go, Christine at A Leap of Faith, Marsie at Quite Contrary, Sarah at Faith, Hope, and Love, JG at Perpetual Newlyweds.
Again, thanks so much, Megan!