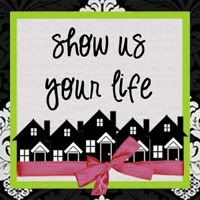 I'm so excited to participate in this week's "Show Us Your Life!" As I am typing this, Buddy is barking angrily at his reflection-- what a silly dog!
Ever since E redeployed from Iraq, he's been mentioning buying a puppy. He did a lot of research, and decided that when we moved to AZ that we'd buy a
Coton de Tulear
. We stopped by a breeders home on Phoenix during our 4th of July trip to The Grand Canyon and when we saw Buddy, it was love at first site! I was sitting cross legged on the floor and the little guy came up to me, layed his head on my ankles, and just gave me the sweetest look. There was absolutely no way I was going home without him!
Buddy's first day at home:

With Dad:

The Army Brat:

Arizona is HOT!

I love puppy eyes :) :
So proud of himself (he needs his hair brushed SO badly in this pic):
Howl-o-ween:
This is Buddy's favorite toy, Poo Cow, who he has a bad habit of tearing holes in. E is nice enough to sew them up for him, though. He's going to be a wonderful daddy someday :)
We both love Buddy so much and couldn't imagine ever being without him. He's so much more than just a pet-- he really is a member of our mini family.