One of my favorite things about being married is that E and I are able to start our own family traditions. We're keeping a lot of the ones we grew up with, of course, but it's nice to be able to do our own thing too :)
One tradition I wanted to begin was buying a new Christmas ornament for the two of us each year. I was just going to go to Hallmark with E to find something, but while we were visiting friends today (they're the ones who own Max, Buddy's BFF) JoAnne (Max's Mama) was going through her Christmas ornaments so she showed me all of their personalized ones that she's collected. They were all so nice, that I thought E and I should do the same.
She had some really nice ones that she ordered from personalizationmall.com, and that's where I got these: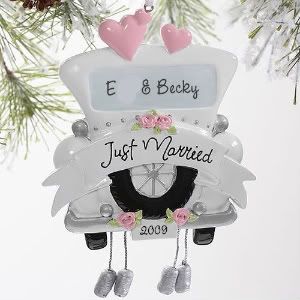 I fell in love with this one-- I just had to have it!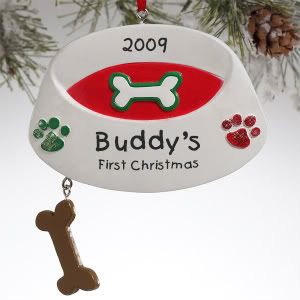 Of course, I had to buy one for Buddy too! He's not spoiled, or anything! Ha!
So, what unique family/ holiday traditions do you all have?
* * * * *
We only have a few weeks left here in Arizona-- time goes by too fast! I can't believe we have to move again so soon, and then we're driving to Ohio for Christmas. I'm excited about what December has in store for us :)
I hope everyone had a wonderful Thanksgiving!