Is it sad when your husband gets really excited because he gets to sleep in 'til 6am? E's work schedule will be different for about a week, so while he gets to sleep in, he also gets to come home late for work :(
On Tuesday, I made a crockpot meal that was so gross that I got up after the first bite and made a can of potato soup instead. Then yesterday, I started to make a pot roast in the crockpot. Notice a trend? I'm thinking the crockpot will go into retirement for awhile. Anyway, I didn't like really like the crockpot pot roast recipe, and it smelled really weird, so I ended up taking it out, chopping it into chunks and throwing it into a casserole dish with the veggies I had chopped up to roast and just roasted it in the oven the way God intended a roast to be cooked, ha! It turned out so good too-- my daddy would be proud! :) I'm making lasagna for dinner tonight, so hopefully it turns out nicely. I just can't take any more blows to my cooking ego.
I bought a lovely bundt pan yesterday that came with a cakeholder, so really, I killed two birds with one stone. Is it bad that I get excited about such things as a cake pan? I'm going to make a
pumpkin cake
later, because E loves having it for breakfast with his coffee. I try to make sure that I bake him something about once a week to have for breakfast. Yeah, I love him a little ;)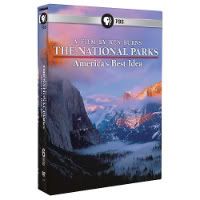 Well, we think it's interesting, but that kind of thing is right up our alley. We missed the first two, but they are available online for free. We really want to visit a lot of them, especially when we have kids and have already planned to buy those cute passport thingies for them. We've seen Carlsbad Caverns and The Grand Canyon as a couple, I've been to the Smoky Mountains, and E has been to Mt. Rainier, Glacier, and Yellowstone. There are three parks in AZ: The Grand Canyon, Saguaro, and the Petrified Forest. Saguaro (ie those big, lovely cactuses) is just about an hour away, so we're thinking about a trip up there soon, but the Petrified Forest is a little too far away, unfortunately. I also really want to go to
The Desert Musuem
in Tucson-- E and I have heard that it's really nice. I mean, if the Army is going to send us all over the country, we might as well see as much of it as we can, right?
Lastly, E told me a story the other day that made me giggle like a school girl. He told me that BT/ AIT soldiers are still so rigid from being so new to the Army, and that they are especially rigid around officers. E was in the DFAC (dining facility to you civilians) and got up to leave. He said the entry way was crowded with AIT soldiers and they saw him coming and E said it looked like Moses parting the Red Sea. He said one soldier didn't see him coming and that another one did and literally pushed the other guy out of the way. E heard the second guy say "I just saved your life" after E walked out the door, hahaha! Lily Burana talks about having an Army Officer as a husband in her book I Love a Man in Uniform. She said she thought it was kind of funny hearing people call her husband "Sir" and saluting him, especialy since he was the one who she fought over the remote control with at home. It's not that I don't respect my husband or think he's worthy of the respect he gets at work (I have nothing but the upmost respect and admiration for my darling husband), it's just that he's so silly, laidback and fun at home that it's hilarious that those soldiers were so intimidated by him. E said that it's funny that he got too much respect from those soldiers, but really not enough from his wild platoon when he was a platoon leader.
Anyway, my to do list for the day consists of baking that cake, getting dinner ready, laundry :(, and taking Mr. Buddy tot he park. Sometimes I really have to remind myself that he's a dog and not a little boy. Oh well... I love him so :)
By the way, I just can't believe that it's already October... where has the year gone?